[ Mamburao | Abra de Ilog | Calintaan | Looc | Lubang | Magsaysay | Paluan | Rizal | Sablayan | San Jose | Sta. Cruz ]
San Jose, Occidental Mindoro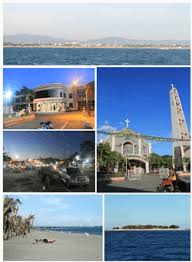 The Municipality of San Jose, is a 1st class municipality in the province of Occidental Mindoro, Philippines. According to the 2015 census, it has a population of 143,430 people[3], which represents a third of the provincial population, and the largest among cities (excluding Puerto Princesa City) and municipalities in the MIMAROPA region.
San Jose has the largest commercial port and airport in the province. The town also has the most banking, business, dining and commercial establishments in Occidental Mindoro, and has become a center of trade in the MIMAROPA region.[4] Its major local and international exports include rice, salt and processed milkfish. San Jose ranked 13th placer for the "Overall Competitiveness" among Philippine local government units in the 2017 Cities and Municipalities Competitiveness Index (CMCI).[5]
In pre-colonial times, it was named Pandurucan by the indigenous Mangyans, before later renamed for its patron saint, St. Joseph, the husband of Mary.
Mga Barangay
San Jose is politically subdivided into 39 barangays as of 11 January 2019.[13] Barangay Naibuan (PSGC 175110040) was created by virtue of Presidential Memorandum Order No. 19, series of 2018, pursuant to Sangguniang Panlalawigan Resolution No. 138, series of 2007 and ratified through a plebiscite on January 5, 2018.[14][15][16]
PSGC
Barangay
Population
±% p.a.
2015[3]
2010[17]
175110001
Ambulong
1.6%
2,224
1,539
▴
7.26%
175110002
Ansiray
0.7%
1,032
945
▴
1.69%
175110003
Bagong Sikat
4.6%
6,564
6,096
▴
1.42%
175110004
Bangkal
0.7%
933
799
▴
3.00%
175110005
Barangay 1 (Poblacion)
0.2%
283
265
▴
1.26%
175110006
Barangay 2 (Poblacion)
0.3%
415
391
▴
1.14%
175110007
Barangay 3 (Poblacion)
0.9%
1,323
1,113
▴
3.35%
175110008
Barangay 4 (Poblacion)
0.3%
500
473
▴
1.06%
175110009
Barangay 5 (Poblacion)
1.1%
1,569
1,524
▴
0.56%
175110010
Barangay 6 (Poblacion)
0.3%
398
450
▾
−2.31%
175110011
Barangay 7 (Poblacion)
0.3%
436
437
▾
−0.04%
175110012
Barangay 8 (Poblacion)
0.2%
348
343
▴
0.28%
175110013
Batasan
4.4%
6,260
4,851
▴
4.97%
175110014
Bayotbot
1.7%
2,492
2,081
▴
3.49%
175110015
Bubog
6.5%
9,356
8,134
▴
2.70%
175110016
Buri
0.4%
607
484
▴
4.41%
175110017
Camburay
1.3%
1,849
1,856
▾
−0.07%
175110018
Caminawit
8.5%
12,223
10,564
▴
2.82%
175110019
Catayungan
0.7%
1,021
794
▴
4.90%
175110020
Central
7.6%
10,901
9,250
▴
3.18%
175110021
Iling Proper
1.5%
2,124
1,886
▴
2.29%
175110022
Inasakan
0.4%
625
581
▴
1.40%
175110023
Ipil
0.6%
789
587
▴
5.79%
175110024
La Curva
2.1%
3,034
3,270
▾
−1.42%
175110025
Labangan Iling
0.7%
1,070
1,009
▴
1.12%
175110026
Labangan Poblacion
6.8%
9,683
8,872
▴
1.68%
175110027
Mabini
2.0%
2,938
2,584
▴
2.47%
175110028
Magbay
3.0%
4,299
3,651
▴
3.16%
175110029
Mangarin
2.4%
3,410
3,049
▴
2.15%
175110030
Mapaya
5.6%
7,982
7,349
▴
1.59%
175110031
Murtha
4.2%
5,985
5,279
▴
2.42%
175110032
Monte Claro
2.7%
3,855
3,506
▴
1.82%
175110033
Natandol
1.1%
1,521
1,062
▴
7.08%
175110034
Pag-asa
7.8%
11,232
12,701
▾
−2.31%
175110035
Pawican
1.6%
2,295
2,149
▴
1.26%
175110037
San Agustin
3.7%
5,363
5,301
▴
0.22%
175110038
San Isidro
1.2%
1,785
1,844
▾
−0.62%
175110039
San Roque
10.3%
14,706
14,119
▴
0.78%
TOTAL
143,430
131,188
▴
1.71%